Our brand new range of vegan faux leather accessories are premium, luxurious and entirely customisable. Each product is available in a variety of sizes, materials, colours, prints, and can be debossed or printed with foil lettering to make them entirely unique and individual to you and your designs.
They are made from the finest quality of materials and manufactured to an amazing standard, and will bring some luxury, class and elegance to your life. The entire range is made up of products which will enhance your every-day life, whilst being beautifully made, designed specifically for you, and ethically and sustainably produced.
Our vegan leather is a gorgeous cruelty-free option which is produced ethically and sustainably in our factory in South India, where a team of beautiful women work enormously hard to produce these products that are of an impeccable quality. If you are looking for real leather items, our glasses cases and passport covers are made from offcuts of premium genuine leather, and so are still made as ethically as they possibly can be. This faux leather and real leather range is designed to bring you accessories which are at the height of luxury, sophistication and elegance.
The minimum order quantities are 50 units, and the colours available for each product are white, coral pink, black, dark brown, tan, racing green, navy blue and post-box red.
Vegan Faux Leather Laptop Sleeves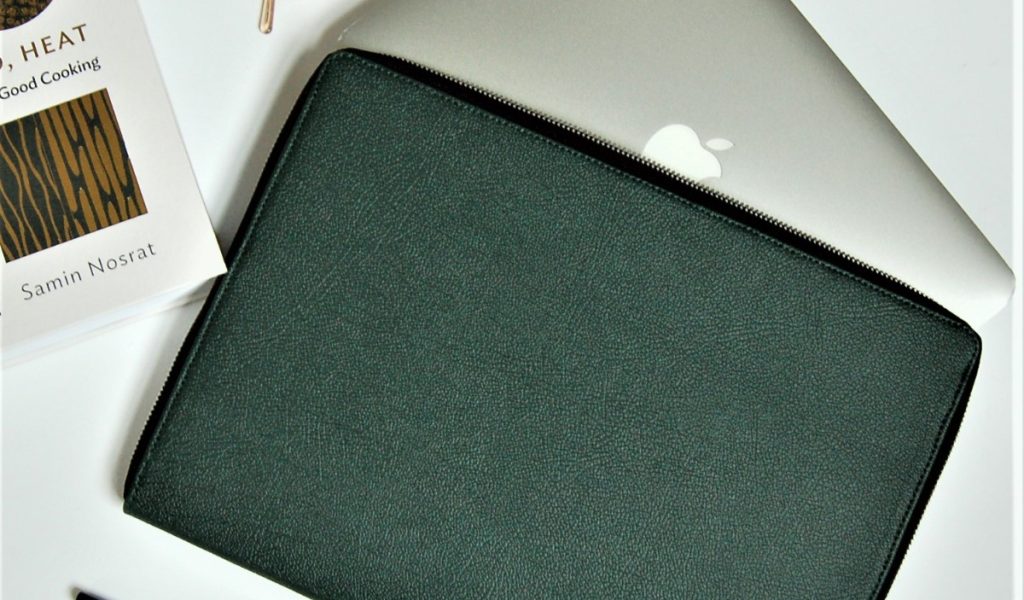 Our vegan faux leather laptop sleeves are sleek, elegant and classic, and mean that you can carry your laptop in style. Made from the finest quality vegan leather, they are lined with soft brushed cotton, and fastened with a sleek YKK zip and so protect your laptop whilst being stylish and practical. They come in either a smooth, supple faux leather, or a textured caviar faux leather. The zips can be changed to meet your requirements, as can the dimensions of the product itself. Our beautiful faux leather also comes in a variety of colours, including white, coral pink, black, dark brown, tan, racing green, navy blue and post-box red. The materials used to make this gorgeous case are of the highest quality, and it can be personalised with things like debossing and foil lettering. You can relax in the knowledge that your laptop will be fully protected in this luxurious case.
Details:
Height: 24cm/ Width: 33cm/ Depth: 2cm
Opens to: 7cm depth
Customisable YKK zips
Premium vegan faux leather: in either smooth or caviar texture
Comes in: white, coral pink, black, dark brown, tan, racing green, navy blue and post-box red
Can be customised: debossing, foil lettering or print
Available in different sizes for your laptop – speak to our sales team to find out more
Vegan Faux Leather and Genuine leather Glasses & Sunglasses Cases
Our glasses and sunglasses cases are made from genuine leather and are made to the highest quality. They come in a variety of different shapes, sizes and designs, and have many different ways of fastening. All cases are made from real, genuine leather, and are lined with a soft brushed cotton. Our high-grade leather comes in either a decedent dark brown, or a sleek tan, and can be either a smooth, supple leather, or a textured croc effect leather. The cases can have a magnetic lock, a string fastening, or just be in a simple sleeve style. Our beautiful cases also come in the same premium vegan faux leather as our laptop cases, and can either be a smooth or caviar texture. These cases will keep your glasses secure, and can be entirely customised with debossing and foil lettering to make them instantly recognisable as your own.
Styles of cases:
Landscape curved genuine leather case with magnetic lock details: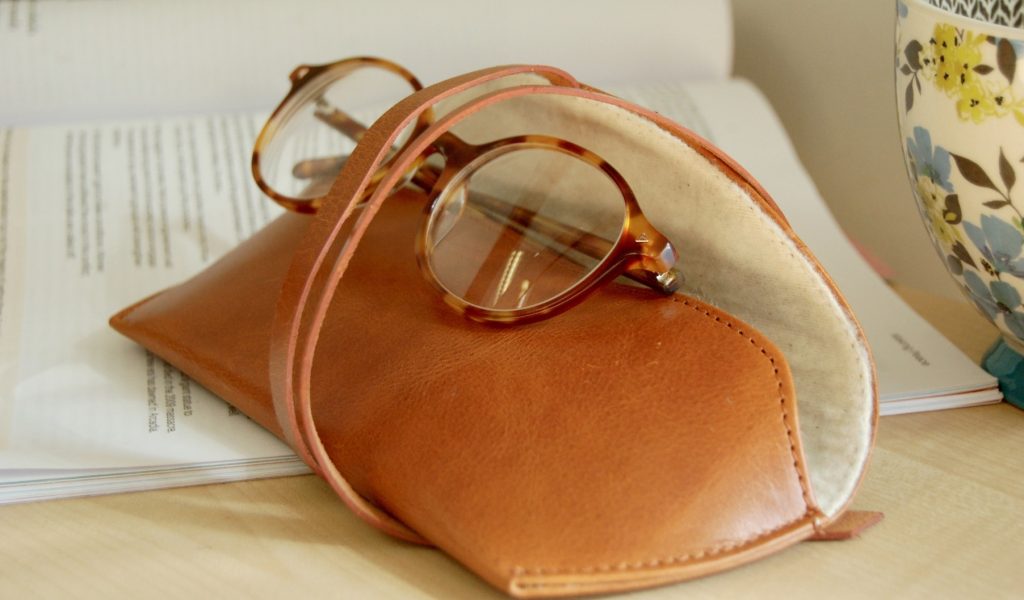 Height: 9cm/ Width: 15cm/ Depth: 2cm
Real, genuine leather (Made using offcuts to be as ethical as possible): crock or smooth texture
Colours: can come in all available colours
Option for: debossing, foil lettering or print
Portrait genuine leather glasses sleeve with magnetic lock details: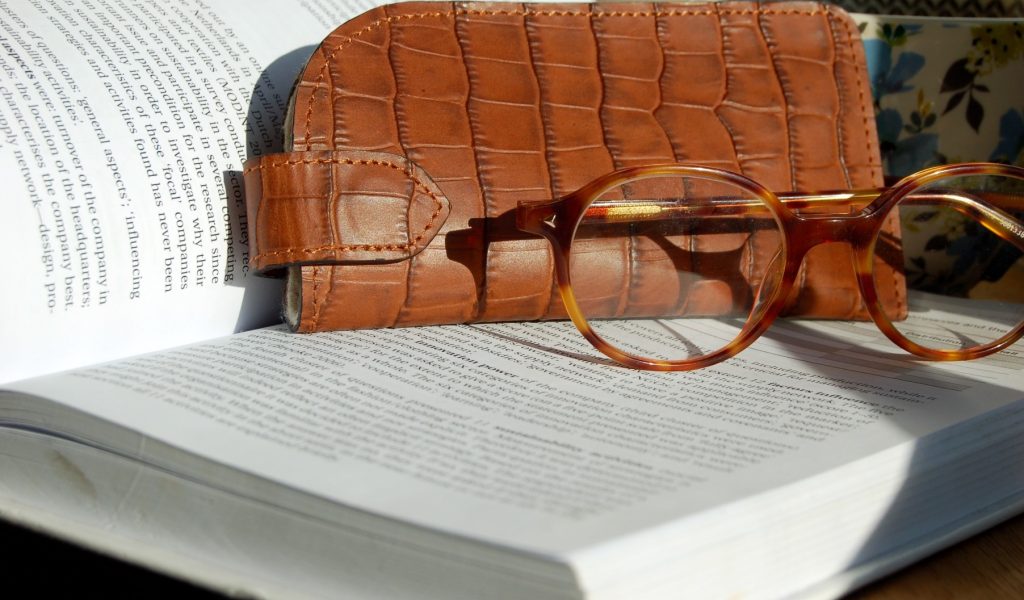 Height: 15cm/ Width: 9cm
Real, genuine leather(Made using offcuts to be as ethical as possible) : crock or smooth texture
Colours: : can come in all available colours
Option for: debossing, foil lettering or print

Landscape genuine leather case with tie wrap fastening details:

Height: 8cm/ Width: 18cm
Real, genuine leather(Made using offcuts to be as ethical as possible) : crock or smooth texture
Colours: : can come in all available colours
Option for: debossing, foil lettering or print

PU Vegan faux leather glasses sleeve details: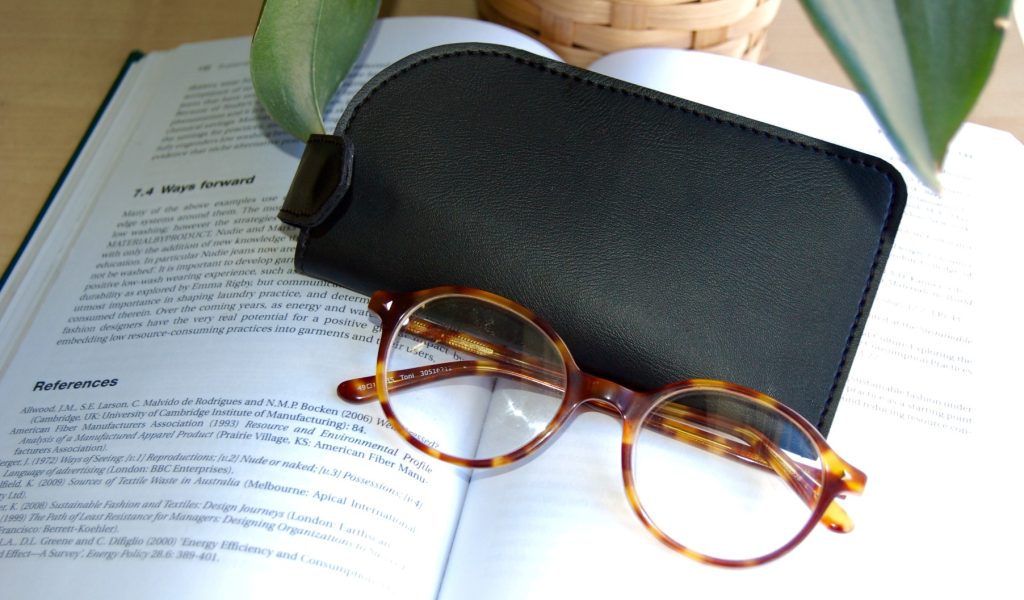 Height: 15cm/ Width: 7cm
Premium vegan faux leather: in either smooth or caviar texture
Comes in: white, coral pink, black, dark brown, tan, racing green, navy blue and post-box red
Can be customised: debossing, foil lettering or print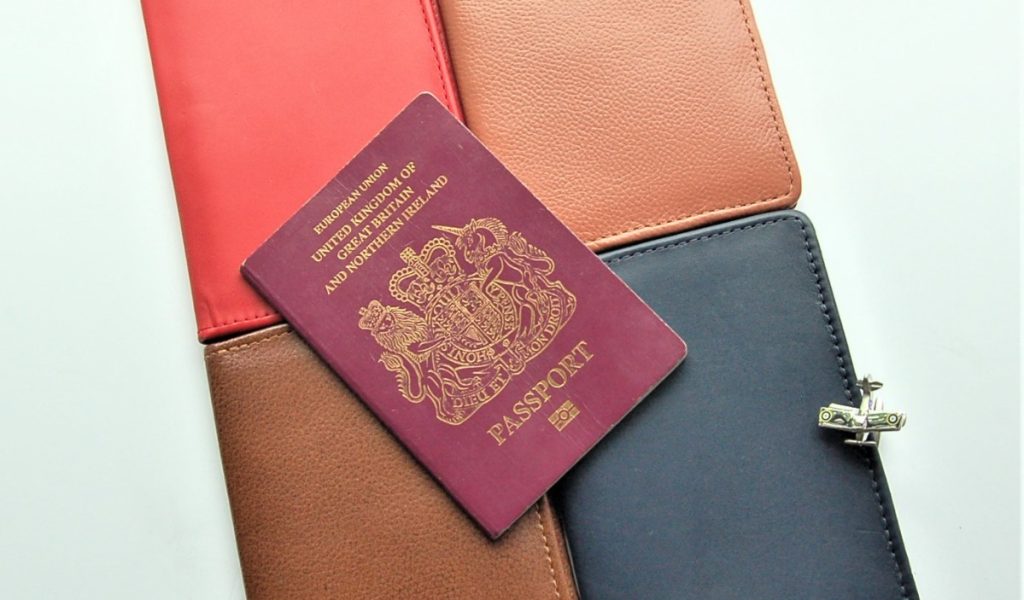 Our passport covers are beautifully designed to hold your passport and be the perfect stylish holiday accessory. These gorgeous leather accessories are made from luxurious, genuine leather, or our ethical vegan faux leather, and can be customised so that they are entirely unique to you. They come in a variety of colours, and can be made in a smooth or caviar textured leather. The inside flaps secure your passport in the cover, meaning that it is safe, protected, and won't fall out. This case is perfect for those who want to travel in style and add a little luxury to their lives.

Details:

Height: 14cm/ Width: 10cm
Real, genuine leather (Made using offcuts to be as ethical as possible): crock or smooth texture
Premium vegan faux leather: in either smooth or caviar texture
Comes in: white, coral pink, black, dark brown, tan, racing green, navy blue and post-box red
Can be customised: debossing, foil lettering or print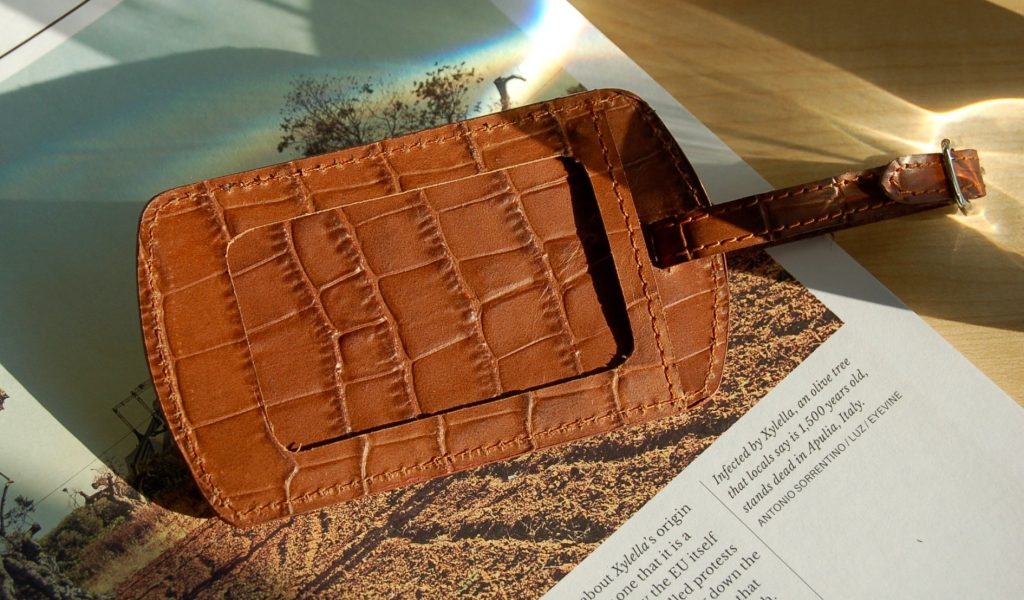 Travel in style with our premium leather luggage tags. Available in a variety of textures, colours and able to personalise to your specific requirements, these gorgeous accessories will see you through your summer holiday in style. The beautiful leather, paired with the option to customise with debossing and gold lettering will mean that your case is instantly recognisable with one of these gorgeous tags.

Details:

Height: 11cm/ Width: 6cm
Real, genuine leather(Made using offcuts to be as ethical as possible) : crock or smooth texture
Premium vegan faux leather: in either smooth or caviar texture
Comes in: white, coral pink, black, dark brown, tan, racing green, navy blue and post-box red
Can be customised: debossing, foil lettering or print
Premium Vegan Faux Leather Wash Bags and Makeup Bags
Our beautifully curated range of wash and makeup bags offers a range of sizes, styles, shapes, and colours to suit everyone. Each bag is effortlessly sleek and stylish, and will be a great addition to any collection. They are made from our premium vegan faux leather, which is not only stylish, but also ethically and sustainably produced. We offer a range of different sizes, shapes, and zip options, as well as the option for a completely faux leather bag, or some with a clear plastic window. We can customise the inside lining to include pockets or print, and each lining is wipe clean to enable to keep your gorgeous bag in pristine condition. These bags are perfect for both travel and everyday use, and will bring some elegance and style to your everyday life.

Medium Curved Makeup Bags Details: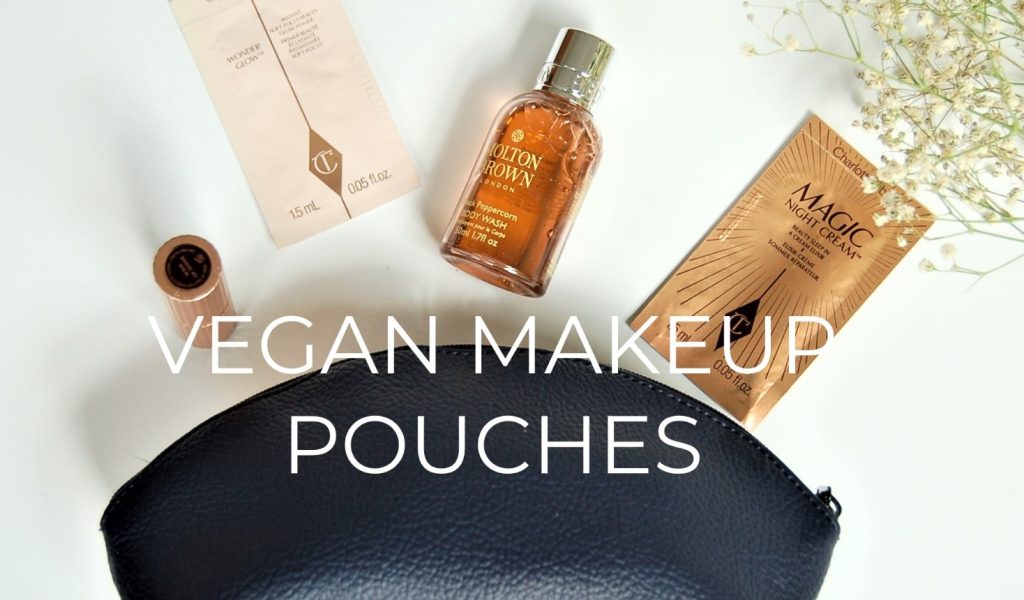 Height: 16cm/ Width: 24cm/ Depth: 5cm
Customisable YKK zips
Premium vegan faux leather: in either smooth or caviar texture
Comes in: white, coral pink, black, dark brown, tan, racing green, navy blue and post-box red
Can be customised: debossing, foil lettering or print
Can add a plastic window or be entirely faux leather
Zip Top Wash Bag with Handle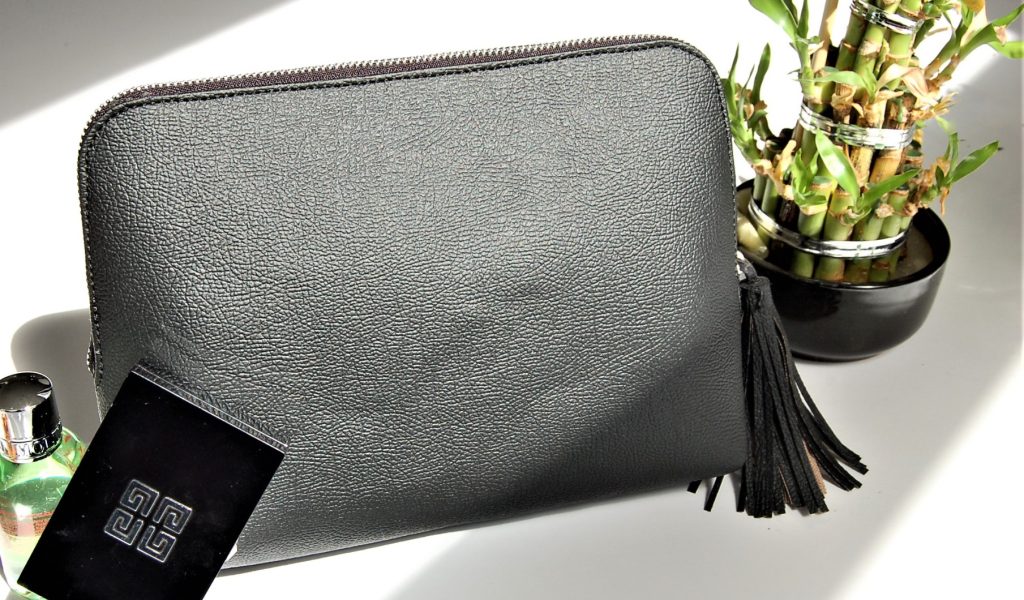 Height: 13cm/ Width: 23cm/ Depth: 6cm
Customisable YKK zips
Premium vegan faux leather: in either smooth or caviar texture
Comes in: white, coral pink, black, dark brown, tan, racing green, navy blue and post-box red
Can be customised: debossing, foil lettering or print
Can add a plastic window or be entirely faux leather
Clear Window Makeup Bag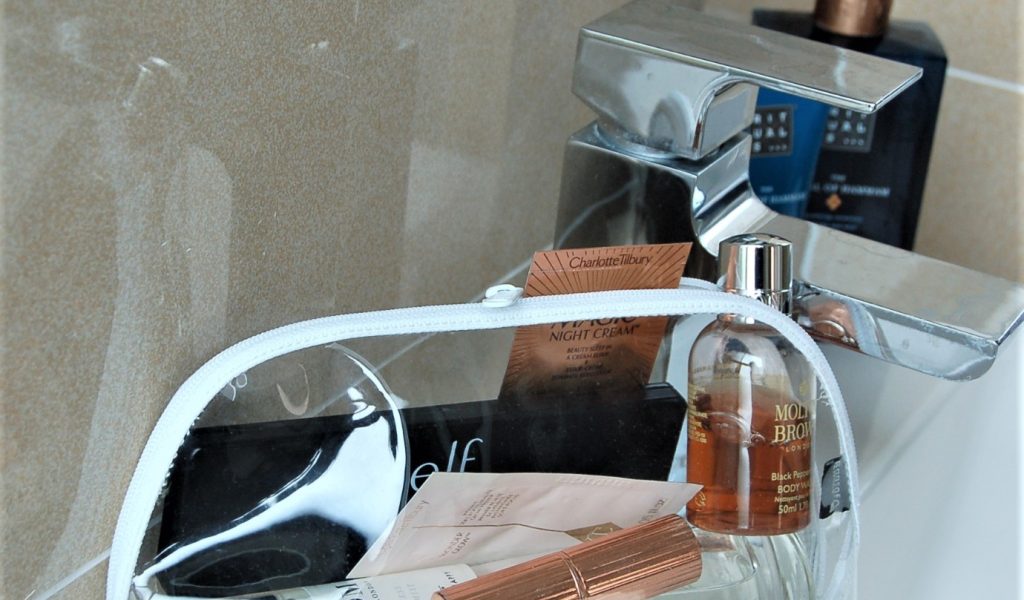 Height: 15cm/ Width: 25cm/ Depth: 7cm – available in different sizes
Customisable YKK zips
Premium vegan faux leather: in either smooth or caviar texture
Clear reusable PVC windows on either side of the bag
Airport friendly
Comes in: white, coral pink, black, dark brown, tan, racing green, navy blue and post-box red
Can be customised: debossing, foil lettering or print
Can be entirely faux leather if desired
Large Makeup Bag – can come in rounded or square shapes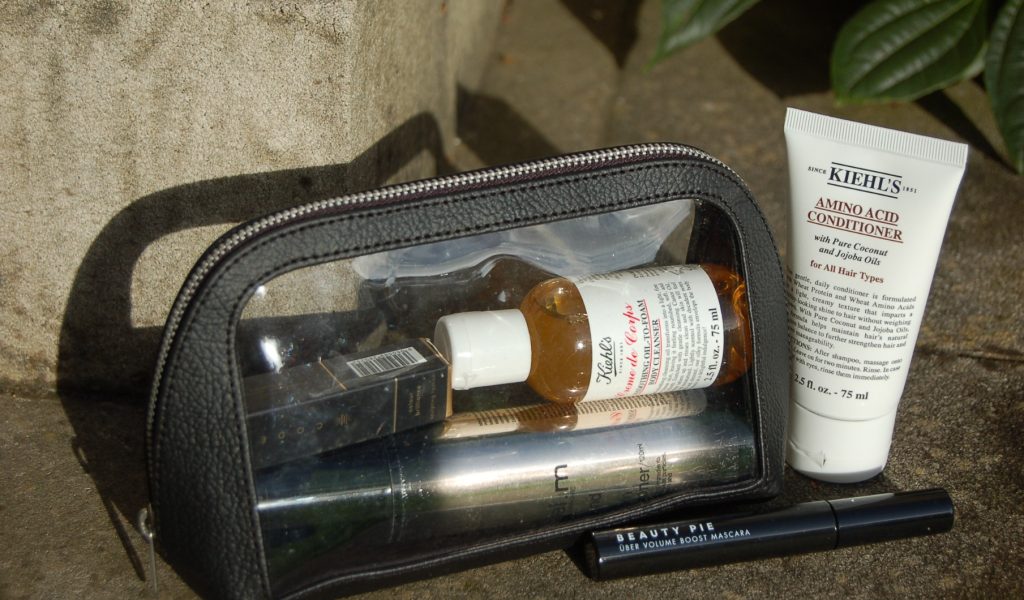 Height: 16cm/ Width: 29cm/ Depth: 6cm
Customisable YKK zips
Premium vegan faux leather: in either smooth or caviar texture
Comes in: white, coral pink, black, dark brown, tan, racing green, navy blue and post-box red
Can be customised: debossing, foil lettering or print